Safe Havens: How to Identify and Construct Non-Deportable Convictions
By: Norton Tooby and JJ Rollin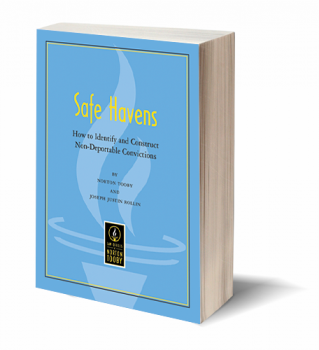 This book outlines a procedure – and provides resources – to aid both criminal and immigration counsel in identifying and constructing safe haven dispositions in criminal cases that will not trigger deportability. This is useful (a) when counsel are faced with criminal charges before plea, and are seeking a safe haven; (b) when a criminal conviction has come into existence, and immigration counsel are attempting to discern whether it will trigger deportation; and (c) when post-conviction counsel are seeking to learn (1) whether a claim of ineffective assistance of counsel exists because original counsel missed an available safe haven, or (2) what safe havens might be available when the damaging conviction has been vacated and the original charges reinstated.
Safe Havens is also a fertile source of good news, suggesting many safe haven arguments that a given conviction does not trigger one ground of deportation, or any ground of deportation. Counsel can easily locate applicable cases and arguments, since they are organized by topic, type of case, and ground of deportation, as well as through a table of authorities and subject-matter index. These arguments can be raised before the Immigration Judge, on appeal to the Board of Immigration Appeals, circuit court of appeals, or in district court on habeas corpus. This book is indispensable for immigration and criminal defense lawyers representing noncitizens facing possible deportation on the basis of a criminal conviction.
Highlights:
2005 edition, with continuous free update service

1050 pages

Over 160 judicial decisions holding a conviction does not constitute a crime of moral turpitude, and a similar number holding an offense is not an aggravated felony

A source of good news, suggesting many safe haven arguments that a given conviction does not trigger any ground of deportation

Easily locate applicable cases and arguments, organized by topic, type of case, and ground of deportation
Praise
"You are a resource that immigration attorneys need all the time. With the way ICE is acting I can't live without your resource materials."
- Lourdes Rodriguez-De Jongh, Attorney at Law, Tucson, AZ
"The book covers not only substantive legal issues but also provides practical guidance on procedural issues that can trip up even the most conscientious lawyer."
-Manny Vargas, NYSDA Immigrant Defense Project, NY
"This is a must for criminal defense attorneys!"
- Karen Hill, SF, CA
Purchasing Options
There are three different ways to obtain this Practice Manual:
Online Edition

Print Edition

Both Print and Online Editions
This practice manual is available as an Online Edition, which grants access to the Online Edition until it is superseded by a new edition. It is also available as a traditional Print Edition, which will be shipped to you. You can also purchase both the Print and Online Editions for the same price as the Print Edition. All purchasers will receive free access to all previous and forthcoming monthly updates to the edition they purchased.
You need not be concerned with the timing of a new edition, because all purchasers of the Practice Manual within one year prior to the publication date of the new edition will receive free access to the new Online Edition for one year after the new edition is published. See Norton's Guarantee in the bookstore.
Continuous Free Update Service
Our Practice Manuals are never out of date. We update each Practice Manual every month. Your purchase of a Practice Manual under our new website program includes free access to all previous and future monthly updates to that edition. This gives you monthly case summaries of every case relevant to the subject matter, organized by the Practice Manual and section number (e.g., § 5.17).
Owners of both the Print Edition and the Online Edition may access the updates by going to My Account and clicking on the Practice Manual you own, and select the section number you want. At the bottom of the section text, you will see all case summaries relevant to that subject published since the publication date of your edition.
Already Own a Print Edition?
Already own a hard copy of one of our practice manuals? If you bought a Print Edition of one of our practice manuals before the online edition became available, you can still obtain our monthly update service in one of two ways:
(1) Subscribe to our Premium Resources for only $19.95 a month and receive all past and future case updates to all practice manuals for one low price during your subscription; or
Premium Resources Monthly Subscription

Premium Resources Annual Subscription

$ 19.95

$ 199

a $41 savings over the monthly rate!
(2) Purchase the Online Edition of the Practice Manual you already own. Online editions are attractively priced at half the price of the print edition. For this price you can electronically search the text, cut and paste legal arguments into your briefs, and review all past and future case updates to this edition.