Tooby's Guide to Criminal Immigration Law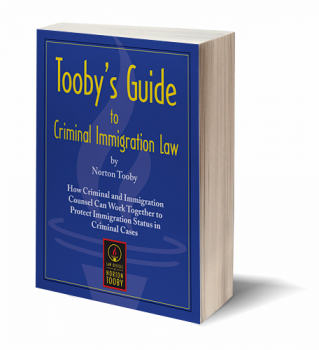 Tooby's Guide summarizes, in clear and concise terms, what criminal and immigration counsel need to do together in the defense of the criminal case, to protect the client's immigration status. This book explains the immigration world to criminal counsel in understandable terms. Because the law in this area is changing rapidly, and because of the difficulty of being aware of all new developments in two evolving areas of law, counsel should view this book as a starting point for research, rather than its conclusion. It is a summary of the main points covered in N. Tooby & J. Rollin, Criminal Defense of Immigrants (4th ed. 2007), the 2000-page comprehensive practice guide, and contains many cross-references for more information.
Highlights:
243 pages

2008 edition

Short, simple, easy to understand

How we can protect defendants' immigration status, stage by stage in a criminal case

Summary of Criminal Defense of Immigrants (2007)

Norton Tooby is offering a PDF of this book free of charge, and hard copies at only $45
Praise
"Intelligent strategies and practical tips"
- Kathy Brady, Senior Attorney, Immigrant Legal Resource Center, San Francisco, California
"I found it to be a perfect introductory book for the defense lawyer seeking to fulfill his professional responsibilities to his or her immigrant clients."
- Manny Vargas, Immigrant Defense Project, New York, NY