Tooby's Crimes of Moral Turpitude
By: Norton Tooby, J.J. Rollin and J. Foster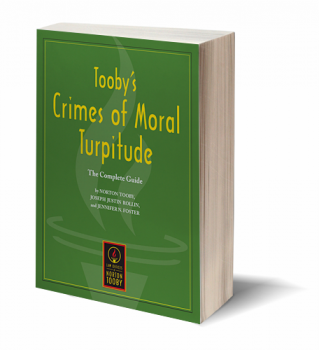 This volume collects and organizes all immigration and federal court decisions defining crimes of moral turpitude. A fully-indexed manual on how to tell whether a conviction is a crime of moral turpitude, organized by nature of the crime. A "must-have" for questions of admissibility, as well as removal defense. Includes all court decisions on CMTs from the BIA, Circuit Courts, District Courts, and Supreme Court.
Hightlights:
Includes all immigration decisions defining CMTs

Useful in all jurisdictions

Comprehensive and fully indexed
Praise
"Amazingly comprehensive"
- Dan Kesselbrenner, Director, Nation Lawyer's Guild, National Immigration Project, Boston, Massachussetts. Co-author, Immigration Law and Crimes
"A wonderful collection on a topic that has confused people for decades"
- Kathy Brady, Staff Attorney, Immigrant Legal Resource Center, San Francisco, California
"The definitive resource on this convoluted area of immigration law."
- Ann Benson, Directing Attorney, Washington Defenders Immigration Project, Seattle, Washington
Purchasing Options
There are three different ways to obtain this Practice Manual:
Online Edition

Print Edition

Both Print and Online Editions
This practice manual is available as an Online Edition, which grants access to the same content online. It is also available as a traditional Print Edition, which will be shipped to you. All purchasers will receive free access to all previous and forthcoming monthly updates to the edition they purchased. See Norton's Guarantee in the bookstore.
Continuous Free Update Service
Our Practice Manuals are never out of date. We update each Practice Manual every month. Your purchase of a Practice Manual under our new website program includes free access to all previous and future monthly updates to that edition. This gives you monthly case summaries of every case relevant to the subject matter, organized by the Practice Manual and section number (e.g., § 5.17).
Owners of either the Print Edition and the Online Edition may access the updates by going to My Account and clicking on the Practice Manual you own, and select the section number you want. At the bottom of the section text, you will see all case summaries relevant to that subject published since the publication date of your edition.