Criminal Defense of Immigrants
By: Norton Tooby and J.J. Rollin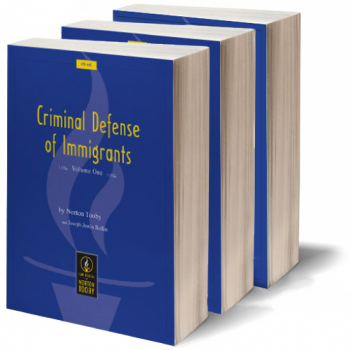 Hard Copy
$585

Hard Copy $585
Online Edition
$385

Online Edition $385
Hard Copy & Online
$585

Hard Copy & Online Edition $585
This three-volume set contains an easy-to-understand overview of the immigration consequences of criminal convictions and how to defend against them. Over 3000 pages, including appendices and index. The Third Volume of Criminal Defense of Immigrants updates the book through March 2012. Criminal Defense of Immigrants takes you step-by-step through the special needs of your clients at each stage of the criminal case; from the first client interview, immigration-safe plea bargaining, sentencing, and post-conviction relief. It also gives an overview of the crime-related immigration process, grounds of deportation and inadmissibility, and forms of relief. A wealth of useful information for immigration lawyers confronting criminal issues. Saves hours of research and contains valuable arguments for immigration court not found anywhere else.
Note: those who already own Volumes I or II may wish to update their copy of Criminal Defense of Immigrants by purchasing Volume III.
Highlights:
Updated with continuous free update service

Three volumes

3000 pages

How to defend immigrants in criminal court, including avoiding immigration consequences

Detailed treatment of immigration consequences of criminal convictions

Useful for both immigration and criminal counsel

Chapter on interpreters
Praise
"Criminal Defense of Immigrants provides an amazingly comprehensive and useful resource for our staff attorneys who work daily in detention centers in Arizona under severe time and resource constraints. We would not be able to fully meet the needs of Arizona's detained immigrants and refugees without it."
- Lindsay N. Marshall, Acting Executive Director, Florence Immigrant and Refugee Rights Project
Justice Stevens, in a recent United States Supreme Court decision, described N. Tooby, CRIMINAL DEFENSE OF IMMIGRANTS (2003) as an "authoritative treatise" in support of the proposition that: "The weight of prevailing professional norms supports the view that counsel must advise her client regarding the risk of deportation."
Padilla v. Kentucky, 559 U.S.130 S. CT.1473 (2010).
"I wanted to thank you and Norton so much for the excellent two volumes on representing criminal defendants. We really appreciate your generosity and are thrilled to have the book."
-Sarah Ignatius, CLE
"The backbone of our library resources on immigration consequences for persons with criminal (and other Public Defender) cases."
- Frank Cox, Chief Deputy Public Defender, Marin County, California
Purchasing Options
There are three different ways to obtain this Practice Manual:
Online Edition

Print Edition

Both Print and Online Editions
This practice manual is available as an Online Edition, which grants access to the Online Edition until it is superseded by a new edition. It is also available as a traditional Print Edition, which will be shipped to you. You can also purchase both the Print and Online Editions for the same price as the Print Edition. All purchasers will receive free access to all previous and forthcoming monthly updates to the edition they purchased.
You need not be concerned with the timing of a new edition, because all purchasers of the Practice Manual within one year prior to the publication date of the new edition will receive free access to the new Online Edition for one year after the new edition is published. See Norton's Guarantee in the bookstore.
Continuous Free Update Service
Our Practice Manuals are never out of date. We update each Practice Manual every month. Your purchase of a Practice Manual under our new website program includes free access to all previous and future monthly updates to that edition. This gives you monthly case summaries of every case relevant to the subject matter, organized by the Practice Manual and section number (e.g., § 5.17).
Owners of both the Print Edition and the Online Edition may access the updates by going to My Account and clicking on the Practice Manual you own, and select the section number you want. At the bottom of the section text, you will see all case summaries relevant to that subject published since the publication date of your edition.