California Criminal Defense of Immigrants (Continuing Education of the Bar, 2018)
By Norton Tooby & Katherine Brady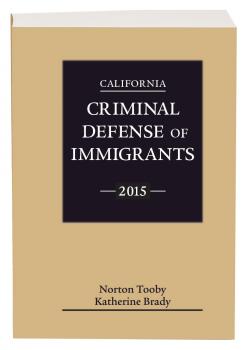 ORDER NOW
Product Description
Be confident that you are providing effective counsel when advising your client on immigration consequences as required by the US Supreme Court in Padilla.
Norton Tooby and Katherine Brady, both well known California attorneys and nationally known experts in crimes and immigration, take you through the critical stages of a criminal case, identifying the immigration concerns and delivering the strategies and advice you need for effective resolution.
Use the only California-specific book on this topic
Protect your client's immigration interests in both misdemeanor and felony cases
Learn the best practices for research, investigation, negotiation, and resolution
Identify alternative acceptable pleas and avenues to post-conviction relief
Prevent immigration holds from sabotaging your criminal dispositions
Includes charts, checklists, diagnostic questionnaires, scripts, and additional resources
Mr. Tooby's Credentials
Norton Tooby graduated in 1967 with a B.A. from Harvard, and in 1970 with a J.D. from the Stanford Law School, where he served as President of the Stanford Law Review. His national practice is based in Oakland, California. He obtains post-conviction relief from criminal convictions for immigrants nationwide, writes practice manuals for immigration and criminal lawyers, gives seminars, and maintains this legal research website. He also consults concerning immigration consequences of past and future criminal convictions.
He is listed in BEST LAWYERS IN AMERICA and BEST LAWYERS IN CALIFORNIA. In 2000, the Immigrant Legal Resource Center awarded him its Philip Burton Immigration & Civil Rights Award for Immigration Lawyering for "his pioneering work in the field of post-conviction relief for immigrants." In June 2010, the National Immigration Project of the National Lawyers Guild honored Mr. Tooby "for outstanding work in defense of immigrant rights." In 2011 he was awarded the American Immigration Lawyers Association's Jack Wasserman Award for excellence in litigation as a member of the team that won Padilla v Kentucky (2010) 559 US 356, 130 S Ct 1473. In Padilla, Justice Stevens recognized and relied on Mr. Tooby's practice manual, Criminal Defense of Immigrants, as one of the "authoritative treatises" that form the basis of counsel's duty to protect noncitizen defendants against adverse immigration consequences of a plea. 130 S Ct at 1482–1483.
Casework. Won a death penalty appeal, reversing all convictions, and setting the client at liberty. People v. Marks (1988) 45 Cal.3d 1335. His published decisions relating to post-conviction relief for immigrants include People v. Totari (2003) 111 Cal.App.4th 1202 (reversing trial court's order denying a motion to vacate a conviction under Penal Code § 1016.5); People v. Totari (2002) 28 Cal.4th 876 (denial of a motion to vacate a conviction under Penal Code § 1016.5 is appealable); In re Resendiz (2001) 25 Cal.4th 230 (defense counsel's misadvice concerning actual immigration consequences of plea can constitute ineffective assistance of counsel)(represented amici curiae on the briefs and at oral argument); People v. Kim (2009) 45 Cal.4th 1078, 202 P.3d 436 (holding petitioner ineligible for a writ of error coram nobis on the facts of the case); consultant on merits and amicus briefing in Padilla v. Kentucky, 559 U.S. ___, 2010 WL 1222274 (2010)(criminal defense counsel has constitutional duty to give affirmative, accurate advice on immigration consequences to noncitizen defendants as requirement of effective assistance of counsel).
Publications – TOOBY'S GUIDE TO CRIMINAL IMMIGRATION LAW: HOW CRIMINAL AND IMMIGRATION COUNSEL CAN WORK TOGETHER (2008); POST-CONVICTION RELIEF FOR IMMIGRANTS (National Edition 2004), CALIFORNIA POST-CONVICTION RELIEF FOR IMMIGRANTS (2d ed. 2009), CALIFORNIA EXPUNGEMENT MANUAL (2002), CATEGORICAL ANALYSIS TOOL KIT (2009); and, with J.J. Rollin, CRIMINAL DEFENSE OF IMMIGRANTS (4th ed. 2007), SAFE HAVENS: HOW TO IDENTIFY AND CONSTRUCT NON-DEPORTABLE CONVICTIONS (2005), CRIMES OF MORAL TURPITUDE (3d ed. 2009), and AGGRAVATED FELONIES (3d ed. 2006). These practice manuals are updated monthly on this site. He also publishes a free monthly eNewsletter on criminal immigration law and a premium monthly eNewsletter.
Seminars – For nearly 20 years, he has given day-long seminars in California and nationwide on criminal immigration law, in partnership with the finest immigration nonprofits, including the National Immigration Project of the National Lawyers Guild in Boston, the Immigrant Defense Project in New York, and the Immigrant Legal Resource Senter in San Francisco, and has often spoken since 1995 at the American Immigration Lawyers Association national conference.
Ms. Brady's Credentials
Ms. Brady earned a B.A. in 1975 from Stanford University, and a J.D. in 1983 at University of California, Berkeley, School of Law. Ms. Brady is a Senior Staff Attorney at the Immigrant Legal Resource Center (ILRC), a national back-up center located in San Francisco, where she has worked since 1987. In 2007, Ms. Brady received the Carol King award for advocacy from the National Immigration Project of the National Lawyers Guild, and she served as a commissioner to the American Bar Association's Commission on Immigration from 2009 through 2012.
Ms. Brady is the primary author of the ILRC's Defending Immigrants in the Ninth Circuit (formerly California Criminal Law and Immigration). She also is a co-author of the ILRC's Special Immigrant Juvenile Status and Other Immigration Options for Children and Youth, Immigration Benchbook for Juvenile and Family Courts, and other manuals on immigration law. Ms. Brady co-authored Chapter 52, Representing the Noncitizen Criminal Defendant, in California Criminal Law Procedure and Practice (Cal CEB). She is a co-founder of the national Defending Immigrants Partnership and the Immigrant Justice Network. Ms. Brady has authored briefs in key Ninth Circuit cases on immigration and crimes. Prior to working at the ILRC, Ms. Brady was in private practice with the immigration firm of Park and Associates.