Tooby's Categorical Analysis Tool Kit
By: Norton Tooby and JJ Rollin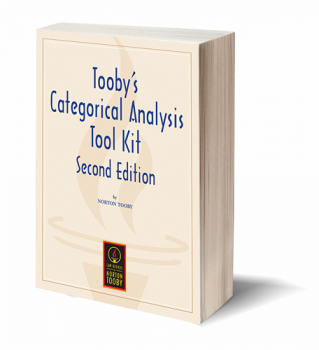 This volume is designed as a snap-shot of the current state of the law concerning categorical analysis, with many suggestions for arguments in favor of preserving it as well as taking advantage of the silver lining of some of the new rules. It contains a description of recent major Supreme Court and immigration decisions on this subject, with discussions of their implications for this fast-moving field. The well-received First Edition was first published at the American Immigration Lawyers Association national conference in Las Vegas in June of 2009. This revised and expanded Second Edition offers a number of important improvements:
Appendix A contains a list of all conviction-based grounds of deportability and inadmissibility, and a description of the type of categorical analysis that applies to each, together with the reasoning concerning why the recent decisions require this result.
The discussion of the new Nijhawan decision in the Supreme Court is completely new. See Chapter 2. It contains a general theory of when the strict categorical analysis applies to a ground of removal or bar to relief, and when a circumstance specific factor may be proven by evidence outside the record of conviction.
Chapter 3 is the previously published article, by Dan Kesselbrenner and Norton Tooby, called Living with Silva-Trevino. It has been updated for this new edition, in particular including references to the Supreme Court's decision in Nijhawan.
Highlights:
545 pages

New, revised and expanded

Totally re-written after the Nijhawan decision

Current state of the law on categorical analysis, circuit by circuit

Appendix specifying type of analysis for each ground of removal

Save a great deal of time in research
Praise
"An accessible and concise guide to the various issues that come up in representation of noncitizen clients in criminal courts"
- Manny Vargas, Immigrant Defense Project, New York, NY
"Tried, true, and useful information"
- G. Bruce Spence