Tooby's Checklists on Criminal Immigration Law
By: Norton Tooby and JJ Rollin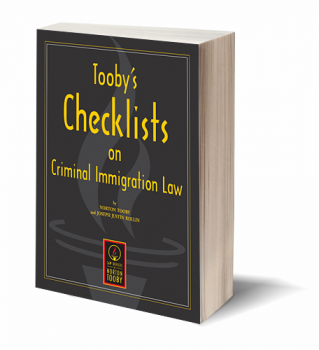 This manual consists of the most useful Appendices from all the national publications of our office. They have been updated with law current through April 1, 2010. The primary focus is on the checklists useful in telling whether a conviction triggers a conviction-based ground of removal, and they are designed to supplement N. Tooby, Tooby's Guide to Criminal Immigration Law (2008), and N. Tooby & J. Rollin, Criminal Defense of Immigrants (2007). Since the checklists have been updated through the present time, they in effect update these books in many ways.
Highlights:
616 pages

2010 Edition

Best checklists from all our previous books

Updated for accuracy

Conviction-based grounds of deportation and inadmissibility

Aggravated felony checklists

Famous crimes of moral turpitude table

Quickly focus on relevant grounds
Praise
"Had significant intellectual and practical content specifically distinguishing things to look at in criminal context and immigration context."
-Customer

"We are building up our criminal immigration practice, and I run most cases through a "Tooby" analysis."
- Jason Martinez, Tulsa, OK