Post-Conviction Relief for Immigrants
By: Norton Tooby and JJ Rollin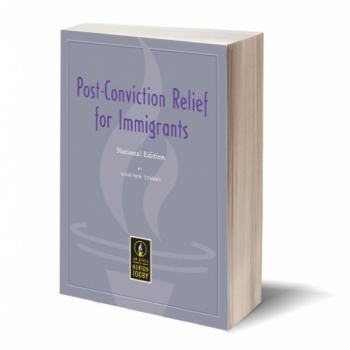 To win post-conviction relief, it is necessary to convince the courts that the defendant in the single, unique case before the court is deserving of relief on a basis so narrow it will not result in a torrent of litigation. The various vehicles, and the many grounds, by means of which post-conviction relief can be sought should offer hope that many convictions and sentences can be set aside, and their devastating effects avoided.
The chief value of this book is that it collects the widest variety of vehicles and grounds on which post-conviction relief may be sought. While it has not proven possible to describe the law on each of these points in the 51 pertinent jurisdictions, nearly all of the bases for vacating a conviction as legally invalid that are described here are grounded on the United States Constitution, and thus may be applied in every jurisdiction.
Highlights:
2004 edition, with continuous free update service

700 pages

Detailed information on how to obtain post-conviction relief to reduce or eliminate adverse immigration consequences of convictions

40 constitutional and other federal grounds to vacate convictions

Federal procedures for obtaining relief, such a motions to vacate, habeas corpus and coram nobis
Praise
"All the men in Eloy tell me to tell you thanks all the time for your wonderful books. At least three men that I know have vacated their criminal convictions PRO SE with the use of your books. They are truly wonderful and have revolutionized the legal skills of the detainees."
- Holly S. Cooper, Florence Project
"Very comprehensive and easy to use"
- Dan Kesselbrenner, Director, Nation Lawyer's Guild, National Immigration Project, Boston, Massachussetts. Co-author, Immigration Law and Crimes
"This research is so very helpful. You continue to be a breath of fresh air! Thank you for always being there for the attorneys who reach out to you for your wisdom and experience."
- Karen Hill
Purchasing Options
There are three different ways to obtain this Practice Manual:
Online Edition

Print Edition

Both Print and Online Editions
This practice manual is available as an Online Edition, which grants access to the Online Edition until it is superseded by a new edition. It is also available as a traditional Print Edition, which will be shipped to you. You can also purchase both the Print and Online Editions for the same price as the Print Edition. All purchasers will receive free access to all previous and forthcoming monthly updates to the edition they purchased.
You need not be concerned with the timing of a new edition, because all purchasers of the Practice Manual within one year prior to the publication date of the new edition will receive free access to the new Online Edition for one year after the new edition is published. See Norton's Guarantee in the bookstore.
Continuous Free Update Service
Our Practice Manuals are never out of date. We update each Practice Manual every month. Your purchase of a Practice Manual under our new website program includes free access to all previous and future monthly updates to that edition. This gives you monthly case summaries of every case relevant to the subject matter, organized by the Practice Manual and section number (e.g., § 5.17).
Owners of both the Print Edition and the Online Edition may access the updates by going to My Account and clicking on the Practice Manual you own, and select the section number you want. At the bottom of the section text, you will see all case summaries relevant to that subject published since the publication date of your edition.
Already Own a Print Edition?
Already own a hard copy of one of our practice manuals? If you bought a Print Edition of one of our practice manuals before the online edition became available, you can still obtain our monthly update service in one of two ways:
(1) Subscribe to our Premium Resources for only $19.95 a month and receive all past and future case updates to all practice manuals for one low price during your subscription; or
Premium Resources Monthly Subscription

Premium Resources Annual Subscription

$ 19.95

$ 199

a $41 savings over the monthly rate!
(2) Purchase the Online Edition of the Practice Manual you already own. Online editions are attractively priced at half the price of the print edition. For this price you can electronically search the text, cut and paste legal arguments into your briefs, and review all past and future case updates to this edition.
Mr. Tooby's Credentials
Norton Tooby graduated in 1967 with a B.A. from Harvard, and in 1970 with a J.D. from the Stanford Law School, where he served as President of the Stanford Law Review. He is listed in BEST LAWYERS IN AMERICA and BEST LAWYERS IN CALIFORNIA. In 2000, the Immigrant Legal Resource Center awarded him its Philip Burton Immigration & Civil Rights Award for Immigration Lawyering for "his pioneering work in the field of post-conviction relief for immigrants." His national practice is based in Oakland, California. He obtains post-conviction relief from criminal convictions for immigrants nationwide, writes practice manuals for immigration and criminal lawyers, gives seminars, and maintains this legal research website. He also consults concerning immigration consequences of past and future criminal convictions.
Casework. He a death penalty appeal, reversing all convictions, and setting the client at liberty. People v. Marks (1988) 45 Cal.3d 1335. His published decisions relating to post-conviction relief for immigrants include People v. Totari (2003) 111 Cal.App.4th 1202 (reversing trial court's order denying a motion to vacate a conviction under Penal Code § 1016.5); People v. Totari (2002) 28 Cal.4th 876 (denial of a motion to vacate a conviction under Penal Code § 1016.5 is appealable); In re Resendiz (2001) 25 Cal.4th 230 (defense counsel's misadvice concerning actual immigration consequences of plea can constitute ineffective assistance of counsel)(represented amici curiae on the briefs and at oral argument); People v. Kim (2009) 45 Cal.4th 1078, 202 P.3d 436 (holding petitioner ineligible for a writ of error coram nobis on the facts of the case); consultant on merits and amicus briefing in Padilla v. Kentucky, 559 U.S. ___, 2010 WL 1222274 (2010)(criminal defense counsel has constitutional duty to give affirmative, accurate advice on immigration consequences to noncitizen defendants as requirement of effective assistance of counsel).
Publications – TOOBY'S GUIDE TO CRIMINAL IMMIGRATION LAW: HOW CRIMINAL AND IMMIGRATION COUNSEL CAN WORK TOGETHER (2009); POST-CONVICTION RELIEF FOR IMMIGRANTS (National Edition 2004), CALIFORNIA POST-CONVICTION RELIEF FOR IMMIGRANTS (2d ed. 2009), CALIFORNIA EXPUNGEMENT MANUAL (2002), CATEGORICAL ANALYSIS TOOL KIT (2009); and, with J.J. Rollin, CRIMINAL DEFENSE OF IMMIGRANTS (4th ed. 2007), SAFE HAVENS: HOW TO IDENTIFY AND CONSTRUCT NON-DEPORTABLE CONVICTIONS (2005), CRIMES OF MORAL TURPITUDE (3d ed. 2009), and AGGRAVATED FELONIES (3d ed. 2006). He publishes a free monthly eNewsletter on criminal immigration law, and a premium monthly eNewsletter on California post-conviction relief for immigrants.
Seminars – For nearly 20 years, he has given day-long seminars in California and nationwide on criminal immigration law, in partnership with the finest immigration nonprofits, including the National Immigration Project of the National Lawyers Guild in Boston, the Immigrant Defense Project in New York, and the Immigrant Legal Resource Senter in San Francisco, and has spoken nearly every year since 1995 at the American Immigration Lawyers Association national conference.