By: Norton Tooby and JJ Rollin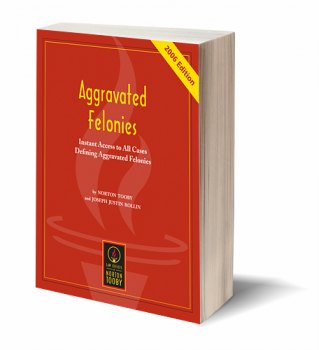 The Aggravated Felonies Practice Manual (2006) contains all cases defining what is, and what is not, an aggravated felony. All cases defining aggravated felonies are arranged by the category of aggravated felony in Appendix A, and by the name of the crime of conviction in Appendix B. The detailed table of contents, table of authorities, and subject matter index provide additional ways by which counsel can quickly and easily find the pertinent decisions.
Highlights
2006 Edition, with continuous free update service

1000 pages

Summaries of all cases from all courts defining what is and is not an aggravated felony and sentence

Also includes all other defenses and immigration consequences relating to aggravated felonies

Fully indexed, with a table of cases and other useful aids to save hours of research
Praise
"Essential for any immigration lawyer with criminal clients"
- Dan Kesselbrenner, Director, Nation Lawyer's Guild, National Immigration Project, Boston, Massachussetts. Co-author, Immigration Law and Crimes
"Contains creative arguments for immigration defense strategies that aren't found anywhere else"
- Kathy Brady, Senior Staff Attorney, Immigrant Legal Resource Center, San Francisco, California
"Extremely useful guide for the criminal defense lawyer"
- Manny Vargas, NYSDA Immigrant Defense Project, NY
Purchasing Options
There are three different ways to obtain this Practice Manual:
Online Edition

Print Edition

Both Print and Online Editions
This practice manual is available as an Online Edition, which grants access to the Online Edition until it is superseded by a new edition. It is also available as a traditional Print Edition, which will be shipped to you. You can also purchase both the Print and Online Editions for the same price as the Print Edition. All purchasers will receive free access to all previous and forthcoming monthly updates to the edition they purchased.
You need not be concerned with the timing of a new edition, because all purchasers of the Practice Manual within one year prior to the publication date of the new edition will receive free access to the new Online Edition for one year after the new edition is published. See Norton's Guarantee in the bookstore.
Continuous Free Update Service
Our Practice Manuals are never out of date. We update each Practice Manual every month. Your purchase of a Practice Manual under our new website program includes free access to all previous and future monthly updates to that edition. This gives you monthly case summaries of every case relevant to the subject matter, organized by the Practice Manual and section number (e.g., § 5.17).
Owners of both the Print Edition and the Online Edition may access the updates by going to My Account and clicking on the Practice Manual you own, and select the section number you want. At the bottom of the section text, you will see all case summaries relevant to that subject published since the publication date of your edition.
Already Own a Print Edition?
Already own a hard copy of one of our practice manuals? If you bought a Print Edition of one of our practice manuals before the online edition became available, you can still obtain our monthly update service in one of two ways:
(1) Subscribe to our Premium Resources for only $19.95 a month and receive all past and future case updates to all practice manuals for one low price during your subscription; or
Premium Resources Monthly Subscription

Premium Resources Annual Subscription

$ 19.95

$ 199

a $41 savings over the monthly rate!
(2) Purchase the Online Edition of the Practice Manual you already own. Online editions are attractively priced at half the price of the print edition. For this price you can electronically search the text, cut and paste legal arguments into your briefs, and review all past and future case updates to this edition.